Check out the 2017 Preseason Week 4 schedule and scores for NFL pro football. The 2017 NFL preseason is coming to an end. After three weeks of injury laden exhibition football, many fans are more than ready for it to finally wrap up, while others are just glad to have more pigskin in their lives. Regardless of what side of that fence you fall on, Week 4 will be here and over before you know it as every single team in the league is in action on Thursday night.
Most clubs will use this preseason finale as an opportunity to get one last long look at the players on the roster fringes before final cuts have to be made. Organizations are required to submit a final 53-man roster to the league by 4 p.m. on September 2nd, which means there is precious little time to decide on who to keep and who to say goodbye to.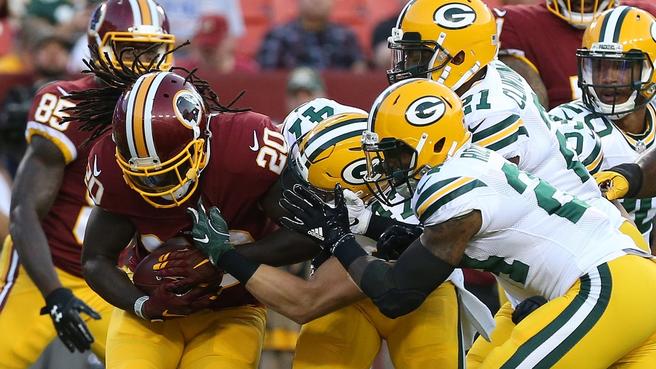 For this reason, most starters generally do not play many, if any, snaps in Week 4. It may not be the most exciting slate of games, but sportsbooks are offering odds on these contests and wagering can make the games much more enjoyable to watch. There's also a good amount of value to be found if you know where to look.
Jon Price of SportsInformationTraders.com, a respected football handicapper, has been helping readers pick winners all month long and has one final preseason tip in store. Before getting to his play of the week, let's take a quick look at the odds for every game and complete schedule—including TV information—for Week 4 of the 2017 NFL preseason.
2017 NFL Preseason Week 4 Schedule and Odds
Date/Game
Time (EST) / TV
Odds
Over/Under
Thursday, August 31
 
Los Angeles Rams at Green Bay Packers
7 p.m.
GB -3.5
38
Philadelphia Eagles at New York Jets
7 p.m. / NFLN
NYJ -1
36
Cincinnati Bengals at Indianapolis Colts
7 p.m.
IND -2
36.5
Jacksonville Jaguars at Atlanta Falcons
7 p.m.
ATL -3
38
Pittsburgh Steelers at Carolina Panthers
7:30 p.m.
CAR -4
38
Washington Redskins at Tampa Bay Buccaneers
7:30 p.m.
TB -2.5
36.5
New York Giants at New England Patriots
7:30 p.m.
NE -3
38.5
Cleveland Browns at Chicago Bears
8 p.m.
CHI -3
36.5
Baltimore Ravens at New Orleans Saints
8 p.m.
NO -3
37
Miami Dolphins at Minnesota Vikings
8 p.m.
MIN -3
38
Tennessee Titans at Kansas City Chiefs
8:30 p.m.
KC -3.5
38
Arizona Cardinals at Denver Broncos
9 p.m.
DEN -2.5
37.5
Los Angeles Chargers at San Francisco 49ers
10 p.m.
SF -1
38
Seattle Seahawks at Oakland Raiders
10 p.m. / NFLN
SEA -1
40