It's just about time for training camps to open across the NFL Football Games. Before you know it, the 2017 NFL season will be upon us.
Training camp is a time of great stress for many players. Some are battling for a spot in the starting lineup. Others are trying desperately to hang on to their slot on the 53-man roster.
However, for a fortunate few, training camp is a mere formality. Their only concern at this time of year is getting ready to do what they do best.
Dominate in the games that count.
One is the most successful quarterback in NFL history. Another is a wide receiver who is as consistent as he is productive. Another still is a defensive end who has accomplished a feat equaled only by the great Lawrence Taylor.
They are the very best at what they do in the National Football League. The most dominant players in the league at each position.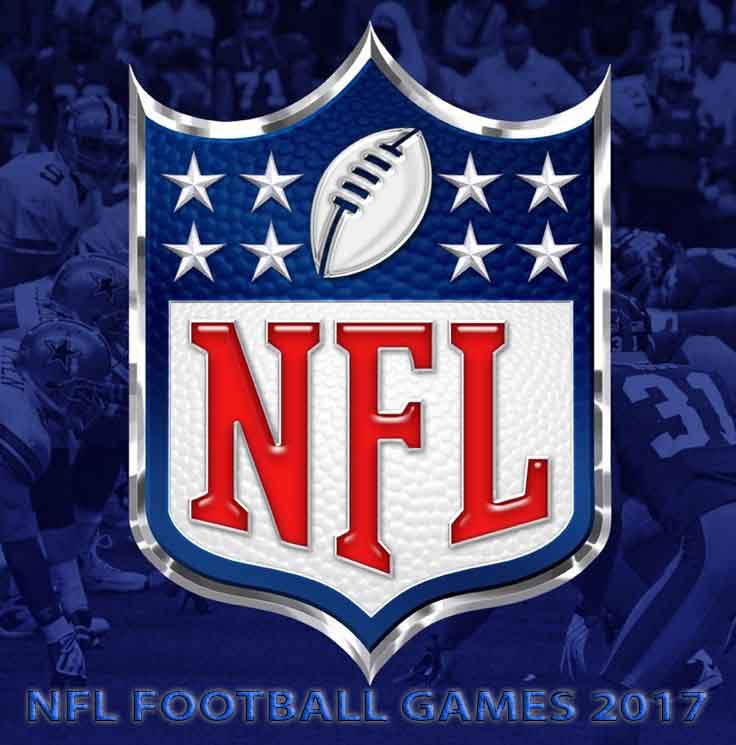 NFL Football 2017 Players – Quarterback
Tom Brady, New England Patriots
At no position in the NFL will discussion of who the very best at that position is generate a more heated debate than at quarterback. The past 15 years or so have been a golden age for signal-callers. There are at least half a dozen players at the position plying their trade who will see their careers end with enshrinement in Canton.
Tom Brady might not have the strongest arm of that group. He certainly isn't the fleetest of foot.
But given that the 39-year-old just won his record fifth Super Bowl, it's awfully hard to argue with the results.
Not only has Brady been great, but he appears to be like a fine wine—he improves with age.
In 2016, Brady set an NFL record by throwing just two interceptions to go with 28 touchdowns passes. His passer rating of 112.2 a year ago was his highest since Brady rewrote the single-season record books during New England's 16-0 2007 season.
Over the past three years, Brady has thrown 97 touchdown passes—and just 18 interceptions.
Detractors will argue that Brady wouldn't have had the success he's enjoyed had he not played for such a good team. But it's the opposite that's the case—the Beantown dynasty of the past two decades would never have been were it not for No. 12.
Best of the Rest
Drew Brees, New Orleans Saints: Brees has more 5,000-yard seasons on his professional resume than every other quarterback in NFL history combined. I reckon that just about covers it.
Aaron Rodgers, Green Bay Packers: No quarterback in the history of the NFL has a higher career passer rating than Rodgers' 104.1. Once again, I reckon that just about covers it.
Matt Ryan, Atlanta Falcons: There are any number of signal-callers I could have mentioned in this spot (Russell Wilson, Ben Roethlisberger), but after passing for nearly 5,000 yards and winning the 2016 NFL MVP award, Ryan gets the nod.
NFL Football 2017 Players – Running Back
David Johnson, Arizona Cardinals
This was easily the toughest call in this article, as there are at least three running backs who can make a legitimate claim to being the NFL's most dominant.
But there's just one tailback who was simply unstoppable in 2016. Who came out and piled up over 100 total yards each and every week.
Over the first 16 weeks of the 2016 season, David Johnson of the Arizona Cardinals played in 15 games. In every one of those games, the 25-year-old hit the century mark. It was an NFL record, and only a knee injury in the final game of the season prevented a clean sweep.
Not bad for a third-round draft pick out of Northern Iowa.
Johnson finished his second season with 1,239 yards on the ground and another 879 yards on 80 receptions. For the math-averse, that's 2,118 yards of offense for the season.
Per the team's website, Johnson has his sights set even higher in 2017—like 1,000 yards rushing and receiving higher.
"That is my main goal," he said. "I must get 1,000 rushing and receiving. I definitely want to be one of those players. There's only two other running backs who have done it. I definitely want to be among those guys."
Johnson might not be the best pure runner in the NFL, but as he showed last year, his all-around skill set can't be beat.
And I wouldn't bet against him joining Roger Craig and Marshall Faulk in the 1,000/1,000 club.
Best of the Rest
Le'Veon Bell, Pittsburgh Steelers: Had it not been for four missed games last year, Bell would have topped 2,000 total yards in his own right. The 25-year-old has also averaged 4.9 yards per carry in each of the last two seasons.
Ezekiel Elliott, Dallas Cowboys: Elliott didn't waste any time making a name for himself in the NFL. Elliott topped 100 rushing yards in his third game, averaged 5.1 yards a pop and ended his rookie year as the NFL's leading rusher.
LeSean McCoy, Buffalo Bills: McCoy had one of the better years of his career last year, setting a personal best with 5.4 yards a carry. It was the fifth time in eight seasons that "Shady" gained more than 1,000 yards on the ground.
NFL Football 2017 Players – Wide Receiver
Antonio Brown, Pittsburgh Steelers
Much like at quarterback, we're in the midst of a golden age of sorts at wide receiver. With pass-wacky offenses and rules tilted to help them, it's no surprise that so many pass-catchers post gaudy numbers each season.
But even by today's standards, what Antonio Brown of the Pittsburgh Steelers has done over the past four seasons has been remarkable.
It started in 2013, when Brown reeled in 110 passes for 1,499 yards and eight scores.
The next year, Brown did even better—129 receptions for 1,698 yards and a career-high 13 touchdowns.
But wait! There's more. The following season, Brown's touchdowns fell all the way to 10 (the slacker), but he set career bests in both catches (136) and yardage (1,834).
Brown missed a game last year, but even then he topped 100 catches for the fourth straight season and found the end zone 12 times.
Over that four-year span, Brown's average season is 120 receptions for nearly 1,600 yards and double-digit touchdowns—all while being double-covered almost constantly.
There may have been bigger single seasons over that stretch (although not many), but no one's been as consistently fantastic as the eighth-year pro from Central Michigan.
As it turns out, Brown can do quite a lot for you after all.
Best of the Rest
Odell Beckham, New York Giants: Beckham has topped 90 receptions and 1,300 yards in each of his three NFL seasons, with 35 touchdown grabs. You may have seen some of them on TV. Like say this one—about 9 million times.
A.J. Green, Cincinnati Bengals: Green's coming off the worst season of his career, having failed to reach the 1,000-yard mark for the first time in six seasons. Of course, he barely missed it—Green averaged nearly 100 yards per contest in his 10 games last season.
Julio Jones, Atlanta Falcons: Like Green, Jones had some problems with injuries a year ago. Even then, he still posted 83 catches for over 1,400 yards. When he's healthy, Jones is as uncoverable as it gets—a truly dominant talent.
NFL Football 2017 Players – Offensive Tackle
Joe Thomas, Cleveland Browns
Joe Thomas has spent the entirety of his career playing for terrible teams in Cleveland. It's too bad, really. Had Thomas played under a bigger spotlight, perhaps more fans would see him for what he really is.
Thomas isn't just one of the best offensive tackles in the NFL. Or even one of the best offensive tackles of his generation.
He's one of the greatest tackles ever to play the game.
Thomas, who came in at No. 25 in the latest iteration of the NFL's top 100 players, was the Browns' first-round pick in 2007. He's started every game since then on the left flank of Cleveland's offensive line.
In fact, not only has Thomas never missed a game—he's never missed a snap.
Not one. In a decade.
All that time, Thomas has performed at an elite level. In nine of his 10 NFL seasons, Thomas has been named either a first- or second-team All-Pro. All 10 seasons, he's been selected to the Pro Bowl.
No other offensive lineman in NFL history has accomplished that feat.
I've seen some great offensive linemen play in the 30-plus years I've been an avid football fan, from Anthony Munoz to Larry Allen to Orlando Pace.
Joe Thomas is every bit as good as any tackle I've ever seen.
Best of the Rest
Donald Penn, Oakland Raiders: Penn isn't mentioned all that often in discussions of the league's best blind-side tackles, but in 2016, the 34-year-old surrendered just one sack. Unfortunately, it was the one where Derek Carr got hurt.
Andrew Whitworth, Los Angeles Rams: At 35 years old, Whitworth's no spring chicken, but if his performance in Cincinnati last year is any indication, he's not close to ready for the scrap heap just yet.
Trent Williams, Washington Redskins: The eighth-year veteran is in the prime of his career, and while durability is a bit of a concern, Williams gave up only 16 quarterback pressures in 12 starts a season ago.
NFL Football 2017 Players – Defensive End
J.J. Watt, Houston Texans
Yes, I'm aware that J.J. Watt missed most of the 2016 season after having a pair of surgeries on his back. I'm also well aware that back injuries have much more history of getting worse than they do of getting better.
But per Drew Dougherty of the Texans' website, Watt insists that he's ready to rock. "I'm very happy with the way it's responded," Watt said. "It feels great."
His word is good enough for this writer.
And if Justin James Watt is 100 percent (or even relatively close to it), then he's much more than just the best defensive end in football.
He might be the best player in the NFL, period. A game-changing wrecking ball. A Category 5 hurricane of misery for opposing offenses.
In Watt's last full season, he piled up 76 tackles and 17.5 sacks. The year before, it was 78 stops and 20.5 sacks.
Mind you, this is while facing constant double-teams.
J.J. Watt is a generational talent—one of only two players in the history of the National Football League to win three Defensive Player of the Year awards.
There are some great defensive ends in the NFL. But none of them can hold a candle to a healthy Watt.
Best of the Rest
Joey Bosa, Los Angeles Chargers: Bosa must not have gotten the memo that rookie defensive ends take time to acclimate to the NFL. He had two sacks in his first game as a pro and piled up 10.5 in 12 games en route to winning Defensive Rookie of the Year.
Brandon Graham, Philadelphia Eagles: Graham's raw stats (59 tackles, 5.5 sacks) aren't overly impressive,, but he's the only edge-rusher in the NFL who scored a top-five grade in both pass-rushing and run defense last year, per Pro Football Focus.
Danielle Hunter, Minnesota Vikings: Hunter racked up 12.5 sacks in his second NFL season despite not starting a single game for the Vikings. He's slated for an increased role in 2017, making a 15-plus-sack season a distinct possibility.
NFL Football 2017 Players – Cornerback
Chris Harris, Denver Broncos
Among NFL cornerbacks, Chris Harris of the Denver Broncos isn't one of the bigger names.
He isn't even the highest-profile cornerback on his own team.
However, when Bleacher Report's Doug Farrar ranked the NFL's best cornerbacks as part of his NFL1000 series, it's Harris who topped the list.
It isn't just Farrar who feels that way, either. Pro Football Focus ranked Harris as the highest-graded cornerback in all of the NFL last year, both overall and in pass coverage.
Harris has been playing at an elite level for several years now. As a matter of fact, according to PFF, no cornerback in the NFL has allowed fewer yards per coverage snap over the last five years than Harris.
Harris has made the Pro Bowl in each of the past three years, and been named an All-Pro in each of those years as well—including a first team nod in 2016.
Denver's "No Fly Zone" is the best pass defense in the National Football League, largely because it has the best one-two punch at corner in Harris and Aqib Talib.
But with all due respect to Talib, it's Harris who is the top dog in the Mile High City due to his versatility. There are quite a few excellent boundary corners in the NFL, but the list of cornerbacks who are as good in the slot as they are on the outside isn't long.
Harris tops it.
Best of the Rest
Marcus Peters, Kansas City Chiefs: Peters' aggressiveness still gets him in trouble from time to time, but since entering the NFL in 2015, no player in the league has more interceptions than Peters' 14. He's the new king of the ball hawks.
Richard Sherman, Seattle Seahawks: Sherman's grade of 13th at the position last year may be a sign that he isn't the player he once was. The trade rumors that swirled around him this offseason might be as well. But he's been one of the NFL's very best for the past six seasons.
Aqib Talib, Denver Broncos: Per PFF, there wasn't a better player in pass coverage last year than Talib. He didn't give up a single touchdown in 2016 and allowed a passer rating against of just 49.5. Talib yielded just 351 receiving yards for the season.
Save